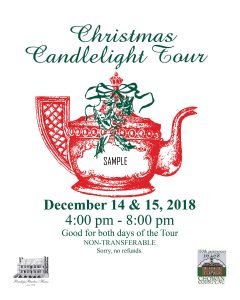 The Christmas Candlelight Tour is Edenton's  most anticipated event every year. Thousands of visitors come from far and wide to see our hamlet shine! Each year, a neighborhood is chosen, and participants spend months preparing for the visitors, and then open their homes to share their own personal family traditions and decorating styles with the public. This year's tour will be held on December 14th and 15th, featuring homes in historic downtown Edenton, including The Cupola House, The Barker House and the Historic 1767 Chowan County Courthouse, which are all decorated using only natural, historically accurate decorations. The self-guided walking tours will be from 4-8 p.m.
Tickets, which are good for both days, are $30 per person, going up to $35 on the day of the event. Children 12 and under are free. Groups of 10 or more are $25 per person in advance (please call to reserve). You can order online or call/stop by the Barker House and purchase as many as you need. Be sure to get yours today! 252-482-7800
If you would like to purchase tickets online, you may do so by clicking on the "Add to Cart button". Once the page has refreshed, you will see your cart, where you can adjust the number of tickets you would like to purchase. Again, if you have a group of 10 or more, please call to reserve your tickets. We look forward to seeing you in December!


We are especially appreciative of our major supporter, Colony Tire. In 1976, Edenton's own Charles Creighton started what would become Colony Tire. The Creighton family and Colony Tire have been generous supports of the Edenton Historical Commission for more than 30 years, which we appreciate greatly. The next time you need new tires, be sure to give them a call!
Click on the links below to enjoy pictures from some of our past tours. We look forward to seeing you soon!!
Christmas Candlelight Tours Past:
2017