Taste of Edenton 2014

FRIDAY, SEPTEMBER 12TH, 6:00 PM
Penelope Barker House Lawn with cash bar
Food, Fun & Music
Tickets: $15.00 in advance, $20.00 on day of event,
at the Barker House (252) 482-7800
Tickets limited so buy early!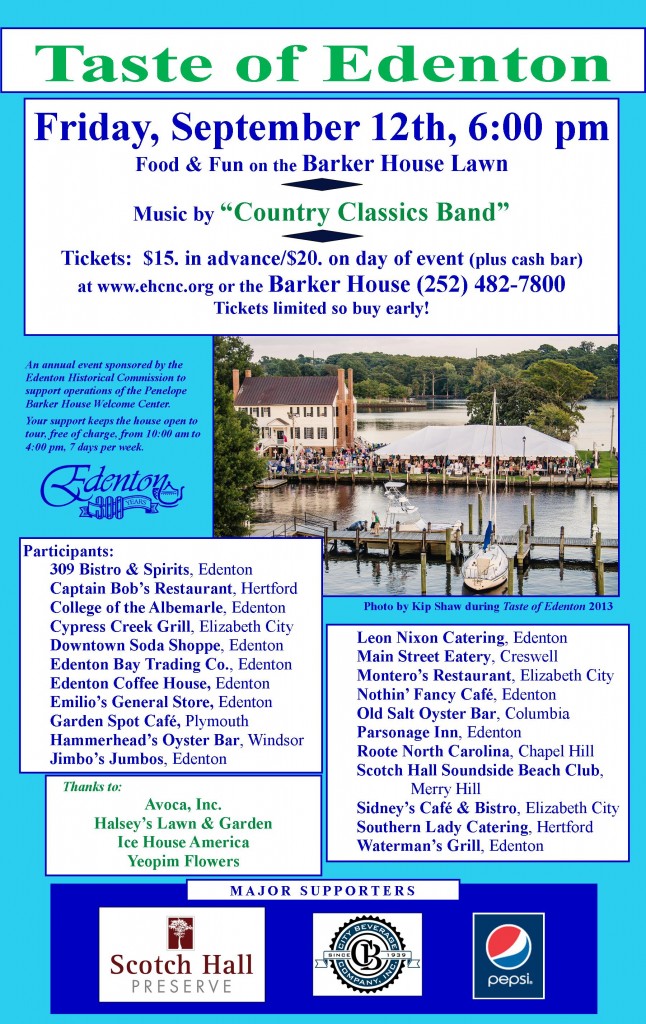 EDENTON TEA PARTY LUNCHEON
Friday, October 24th, 2014, 11:30 am
Celebrate the 240th anniversary of the Edenton Tea Party with a luncheon and tea. Visitors from 1774 Edenton and signers of the Proclamation of Protest will join in.
EDENTON'S CHRISTMAS CANDLELIGHT TOUR 2014
FRIDAY & SATURDAY, DECEMBER 12TH & 13TH, 4:00 PM – 8:00 PM
featuring Wessington (ca. 1850) and an exciting selection of private homes throughout Edenton's Historic District.
Tickets $25 in advance, $30 on days of the tour.  Groups of 10 or more in advance $20/person. Children 12 and under are free.
For more information on all of Edenton's  events: