The Christmas Candlelight Tour is Edenton's  most anticipated event every year. Thousands of visitors come from far and wide to see our hamlet shine! Each year, a neighborhood is chosen, and participants spend months preparing for the visitors. This year, we will be visiting Edenton Bay, a gated community situated on Hayes Plantation, on the water. In addition to the homes in Edenton Bay, several historic buildings "in town" will be on the tour. Especially exciting, our 1825 Chowan County Jail will be open to the public for the first time since it's renovations began! Be sure to get your tickets today, and don't wait to book your reservation at one of our local Bed and Breakfast locations. We look forward to seeing you soon!!
Great news!
If you missed the first broadcast of UNC TV's NC Weekend that featured Edenton, you have another chance to see it. The segment entitled 'Collecting Carolina, Historic Edenton,' will be rebroadcast this Thursday November 16, at 9:00pm, and again Friday at 8:30pm.
Here are several helpful links:
UNC-TV NC Weekend Home Page: http://www.unctv.org/watch/unctv-originals/nc-weekend/
UNC-TV Video page: http://video.unctv.org/show/nc-weekend/
UNC-TV NC Weekend You Tube Channel: https://www.youtube.com/user/ncweekend/featured

UNC-TV Passport: http://video.unctv.org/passport/learn-more/ 
UNC-TV's Collecting Carolina page: http://www.unctv.org/…/unct…/nc-weekend/collecting-carolina/ and a link to this segment is in the new travel app, at the bottom of this web page.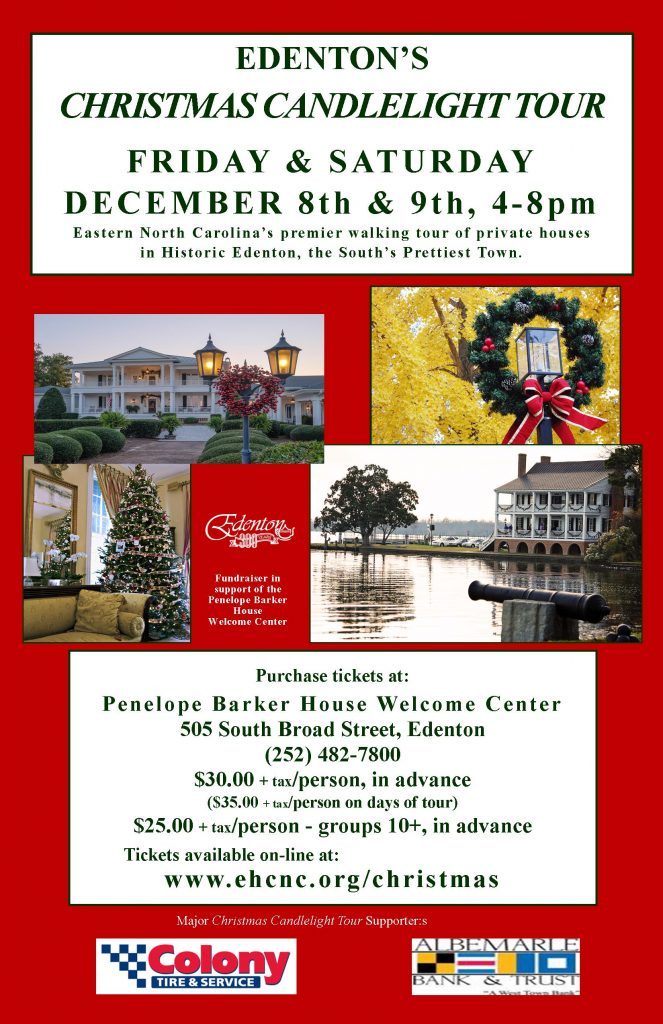 The Edenton Christmas Candlelight Tour for 2017 will be held December 8th and 9th.  Tickets, good for both days, are now on sale for $30 each ($35 each the day of the event) and may be purchased by clicking on "add to cart" below. Your tickets will appear in the column to the right, where you can check out.
You may also purchase tickets
at the Penelope Barker House Welcome Center,  located at 505 South Broad Street in Edenton,  or by calling 252-482-7800. 
For a printable version of the brochure, click here:  CCT-Mailer-2017a.pdf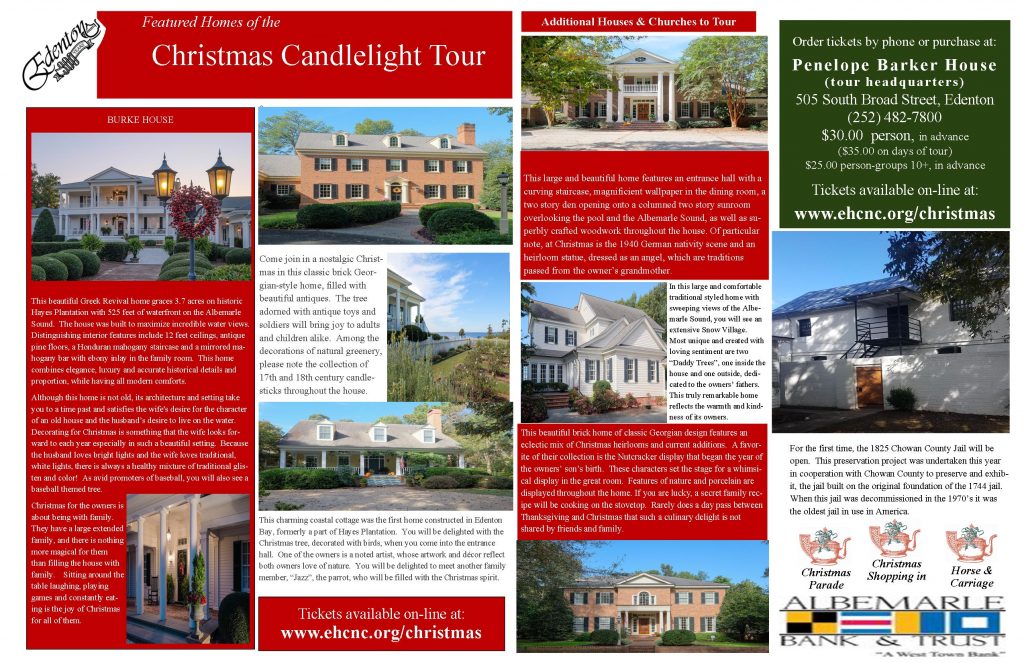 Take a look at pictures from Christmas Candlelight Tours Past!