By Marilyn Melchor
Norfolk was legislated into being in 1682, and it has been a port city with a diverse population ever since. With the Revolutionary War, the 1806 Embargo followed by the War of 1812, and the many yellow fever epidemics in the eighteenth and nineteenth centuries, the prosperity of the city has waxed and waned. When all aspects of city living went well, tradesmen thrived.
To cater to its citizens' domestic needs, Norfolk was home to many cabinetmakers from its inception to the middle of the nineteenth century. Most of these cabinetmakers were mere notations in Norfolk records, if noted at all. Most came, worked in established shops for varying periods, and then moved on to pursue their trade elsewhere. However, there were a few notable cabinetmakers who made Norfolk their home, spent their productive years plying their trade in Norfolk, and who still reside in Norfolk — in an historic cemetery. This article focuses on those cabinetmakers buried in Norfolk's earliest surviving cemeteries and who have tombstones marking their graves.
From historical records, Ron Hurst, in his M. A. thesis, was able to document over four-dozen furniture-related craftsmen working in Norfolk from 1770 to 1820. His thesis provides a glimpse into the typical lives of those identified cabinetmakers. Some were transient, some spent the better part of their careers in Norfolk, some died and were buried in Norfolk, and some died in Norfolk with no indication where they were buried.
Documented Norfolk cabinetmakers who left Norfolk and established themselves in other known areas were as follows: John Selden trained in Norfolk in the mid 1750s. He worked in his own shop until it was destroyed in 1776 during the Revolutionary War. Selden subsequently moved his business to Blandford near Petersburg, Virginia. Thomas Sharrock, the patriarch of the Sharrock family of cabinetmakers in Northampton and Bertie Counties, North Carolina, apprenticed in Norfolk under Richard Taylor. Samuel Lockhart apprenticed in Norfolk under Samuel Langley and moved to Northampton County, North Carolina. Chester Sully and his business partner, George Hendree, had an established cabinetmaking business in Norfolk before ultimately moving to Richmond, Virginia. Maker, William E. Evans, left Norfolk for Greensboro, North Carolina. Additional information about these cabinetmakers can be found in publications by Newbern and Melchor, Hurst and Prown, and Bivins, as well as in the MESDA Research Files.
The extant pre-Civil War cemeteries in Norfolk are Saint Paul's Church Yard dating from as early as the 1640s, Cedar Grove which opened in 1825 as the first municipal cemetery in Norfolk (Fig. 1, Cedar Grove gate), and Elmwood, opened in 1853, as Norfolk's second municipal cemetery. There were other historic churches in Norfolk, such as Christ Church, and they likely had associated cemeteries. There were known burial areas for slaves, for epidemic victims buried en masse in unmarked graves, for war dead, and "potters fields" for unknowns. In addition, there likely were private burial plots within Norfolk. However, with urban development over Norfolk's long history, these churches and other burial grounds have been lost or preserved only as green areas.
St. Paul's Church Yard received only four internments after the 1836 city ordinance that closed the Yard, Cedar Grove having opened in 1825. A chapter of Daughters of the King compiled a listing of St. Paul's extant tombstones in 1902. The Altar Guild of St. Paul's published a history of the Church and its Church Yard in 1934, relying on the 1902 work to document the Church Yard stones. It is as complete as possible, but remember that many other graves are interspersed under and around the marked ones. In 1902, an elderly man in the congregation remarked that about two-thirds of the graves had been deliberately unmarked or were missing headstones. No known Norfolk cabinetmakers or related tradesmen seem to be buried in St. Paul's.
Let's now move to Cedar Grove Cemetery, which becomes the most likely resting spot during the first half of the nineteenth century for some cabinetmakers, both those bridging the turn from the eighteenth century and those who began work in Norfolk in the early nineteenth century. Cedar Grove, opened in 1825, lies about two miles north of the downtown of the time, occupying about 14 acres. Norfolk suffered several yellow fever epidemics in the late eighteenth and early to mid-nineteenth centuries with the 1855 epidemic having the deadliest impact on the city. The southeast corner of Cedar Grove contains a large grassy area that is the resting place of many of the victims of this last disaster.
Elmwood Cemetery, opened in 1853 across the street to the north of Cedar Grove, and became the second municipal cemetery in Norfolk. By far the larger of the two, Elmwood encompasses 50 acres, but it apparently does not hold the remains of any of the early Norfolk cabinetmakers.
Charles Beale operated a cabinet shop in Norfolk beginning just after the turn of the eighteenth century into the nineteenth. Beale was dead by 1826. According to the terms of Beale's will, his son, William Beale, ran the shop until Charles' last minor child became an adult at which time his mother, Martha, would take over the operation. That happened in 1831. No further mention is made of William Beale. Williams' mother, who died in 1840, and his father are buried side-by-side, each under a table-top-sized stone in Cedar Grove Cemetery. Weathering has made each of these two stones impossible to completely decipher today. The stones are in the exact place that the cemetery records as the final resting place of Charles and Martha Beale. The few semi-legible letters on each stone confirm that Charles and Martha are memorialized here (Fig. 2, Tombstone of Charles Beale).
There is one known piece of Norfolk furniture with a Beale signature, a chest of drawers (Fig. 3, Chest with Beale signature). Interestingly, this chest of drawers is mainstream Woodward-shop production ca. 1820, thus posing a problem as to who made it and in what shop. Further, the Beale signature is in a superposed cipher with the name, Delany, (Fig. 4, Beale-Delany cipher) on the bottom of a drawer. This script cipher in chalk poses another enigma. There are numerous Delanys in Norfolk records and buried in Cedar Grove, but there are no Delanys listed as cabinetmakers in any records. Did Charles Beale work as a journeyman in Woodward's shop, in addition to owning his own shop? Did Beale do piece work for Woodward such as this drawer, not an uncommon practice among shops of the period? Did Beale make the entire chest of drawers in his own shop exactly copying Woodward work? This is not likely. Was Delany an apprentice in Beale's shop or Woodward's shop who was allowed to sign shop work? Best guess at this point is that Delany was Beale's apprentice who signed his and his master's names (with or without Beale's knowledge) on the drawer that Beale had built as piecework for Woodward.
Samuel B. Smith, partner of John D. Ghiselin, died before 1836, the date of the probate of his estate. Cedar Grove was open by then, and since St. Paul's Cemetery closed in 1836, Smith should be in one of these two cemeteries. He does not appear in either record. Stones in each of these cemeteries have been ravaged both by time and vandals. Thus, Smith's resting place could not be ascertained.
John D. Ghiselin, born in 1793, most likely served his apprenticeship in Norfolk, where he and Samuel Smith entered into a partnership in 1814. Ghiselin, who died in 1852, rests in Cedar Grove. Humberston Skipwith, a prominent Norfolkian, bought a few pieces of furniture in 1819, before trading with James Woodward. The Ghiselin family plot has a much later, large, upright stone. The individual stone for John is a flat footstone bearing only his initials (Figs. 5, 6, & 7, Ghiselin tombstones). A pair of signed card tables made by Smith & Ghiselin (Fig. 8, Smith & Ghiselin table) (Fig. 9, Smith & Ghiselin signatures on table) survive, both still in the Norfolk area.

The first indication that James Woodward and his cabinetmaking skills had become part of the Norfolk commercial scene appeared in a 1793 advertisement in the Norfolk Herald, though he appeared in tax records the previous year. Woodward found ready customers for his varied wares among prominent Virginians, including Humberston Skipwith, St. George Tucker, and Hartwell Cocke. His was Norfolk's premier cabinet shop. Woodward embraced the Norfolk scene becoming active in local politics and public safety. Woodward's death in 1839 precipitated an estate inventory, enumerating an enormous amount of real property, including lumberyards, over one hundred pieces of furniture, and a complex cabinet shop (Fig. 10, Woodward's obit in March 15, 1839, Norfolk and Portsmouth Herald and General Advisor). The name, "Jas Woodward", in plain block letters on his tomb, reveals his identity (Fig. 11, Woodward tomb). No dates are included. The signature of the stonemason, "Robt Dalrymple", in cursive letters, (Fig. 12, Dalrymple signature) fills part of the entablature on this massive, brick, barrel-vaulted, burial structure, one of only a dozen similar vaults in Cedar Grove. Presumably, this vault holds the remains of Woodward family members as well as Woodward himself. Vandals most probably removed the now-missing iron door to the vault.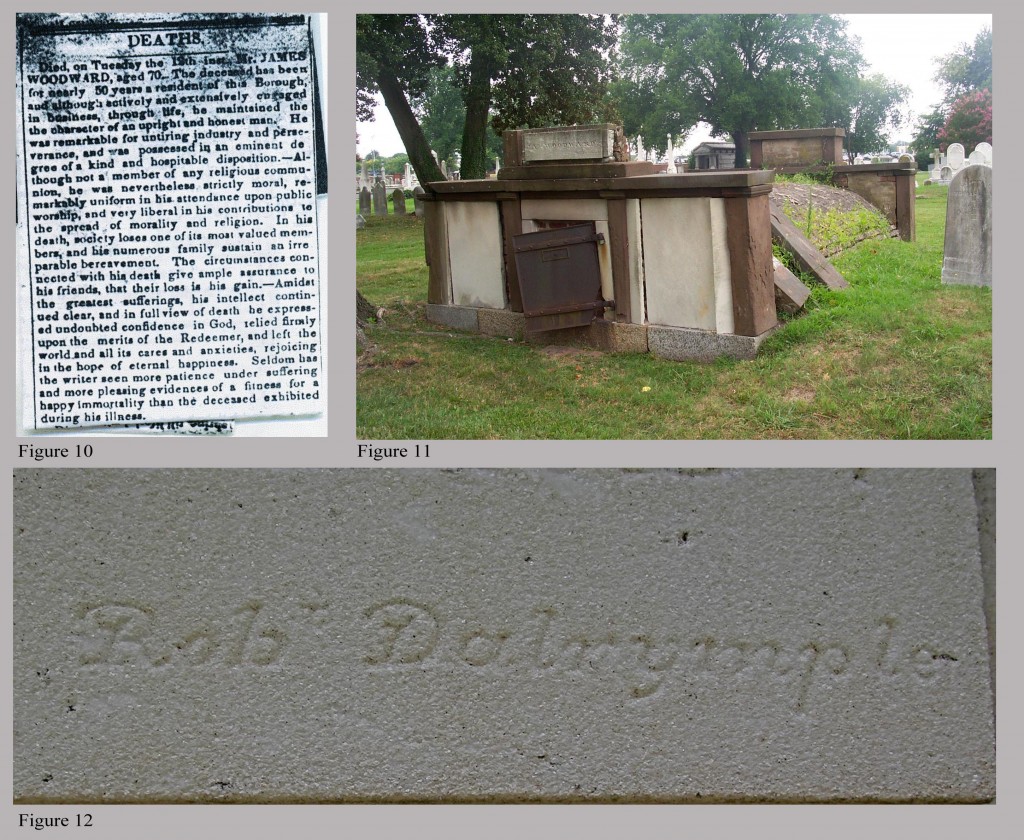 James Woodward was a prolific Norfolk cabinetmaker from about 1795 until his death in 1839. His early Norfolk work was neoclassical in style, and numerous local pieces likely bear his decorative, if not written signature. This decorative signature is an inlaid, quatrefoil design. It has been reported that one table with this design also bears a Woodward paper label. Two sideboards are illustrated showing variations of this design (Fig. 13, Sideboard at Leland Little Auctions) (Fig. 14, Detail of design on Leland Little sideboard) (Fig. 15 Sideboard in private collection) (Fig. 16, Detail of design on private sideboard). The execution of this decorative-design signature varies quite a bit across numerous pieces. This likely indicates that different craftsmen working within Woodward's shop applied their own interpretations, and even craftsmen who had left the shop continued to use the design on their pieces. Another piece from Woodward's early period is an armchair with James Woodward's initials, "IW", incised in the rear seat rail (Fig. 17, Woodward armchair) (Fig. 18, Woodward initials on armchair).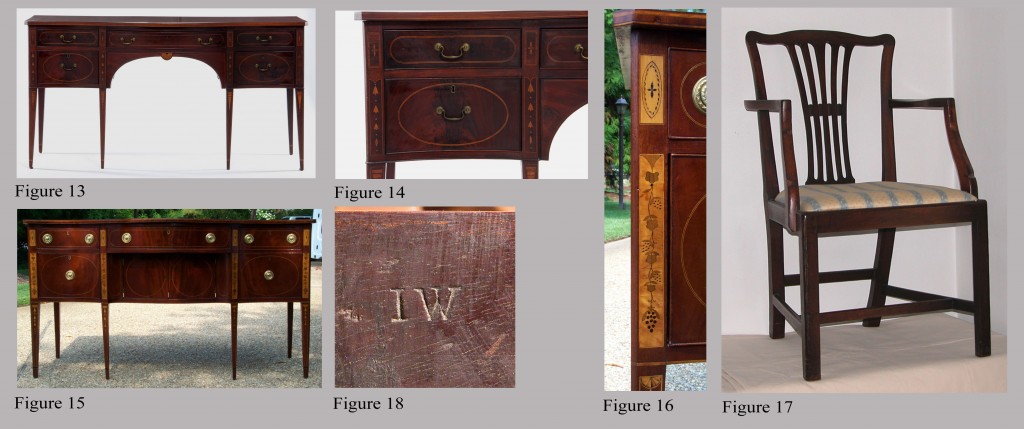 As Woodward progressed into the nineteenth century, his furniture style morphed from the neoclassical into the classical. An iconic piece from this period in Norfolk is a signed and dated clothes press now in the collection of Colonial Williamsburg (Fig. 19, Signed and dated Woodward press) (Fig. 20, Details of Woodward signature and date in the press). Until his death, Woodward continued to produce furniture in the highest taste as illustrated in this chest of drawers (Fig. 21, Woodward's best).
Although Joshua Moore was born in 1785, the first mention of him in public records occurred in 1806, when he is linked with a Johnson – only time mentioned – as partners in Windsor chair making. Moore's civic endeavors included committee membership of the Norfolk Benevolent Mechanic Society and serving as a legal trustee for the manumission of a slave. Moore purchased a workbench from the estate of Samuel Smith in 1835, also advertising that same year that his shop offered painting, repair work, and a large quantity of various forms of furniture. Possibly the oversized chair owned by the Norfolk Police Museum (donated sometime in the early 1920s) served as the trade sign for Moore's shop (Fig. 22, Moore trade sign). A number of the chairs made by Moore and his shop have a stamp on the bottom of the plank seat "M C Co" for Moore Chair Company (Fig. 23, Chair by Moore) (Fig. 24, Moore chair stamp). Moore died in 1854, with burial being in Cedar Grove (Fig. 25, Moore gravestone).

At first glance, Norfolk cabinetmaker, Alexander Martin, seems to have been buried in Cedar Grove. The Alexander A. Martin stone, however, lists his dates from 1788 to 1857, which would have made Martin ten years old at the time of both his marriage and his first advertisement in a Norfolk newspaper. This grave obviously belongs to another Alexander Martin (Fig. 26, Martin gravestone).
A newspaper advertisement in 1835 records the location of the shop of Lewis Salusbury. By 1850, his shop was the largest in Norfolk. While few pieces of Salusbury's work can be firmly identified, numerous pieces with long Norfolk histories are most likely products of his shop. A sofa table with an initialed marble top (Figs. 27 & 28, Salusbury table with initialed top) and a marble-top washstand with distinctive, Norfolk, decorative carving on its doors (Fig. 29, Salusbury washstand) are but two examples. The best-documented piece of Salusbury work is a marble-top, sofa table with its original sales receipt from Salusbury to Confederate Navy veteran, Alexander E. Jack (Fig. 30, Salusbury table) (Fig. 31, Salusbury receipt to Jack for table). By the mid-nineteenth century, an influx of factory-made furniture imported into Norfolk diminished the distinctiveness of the local products. Salusbury, who died in 1876, is buried in a family plot in Cedar Grove (Fig. 32, Salusbury gravestone).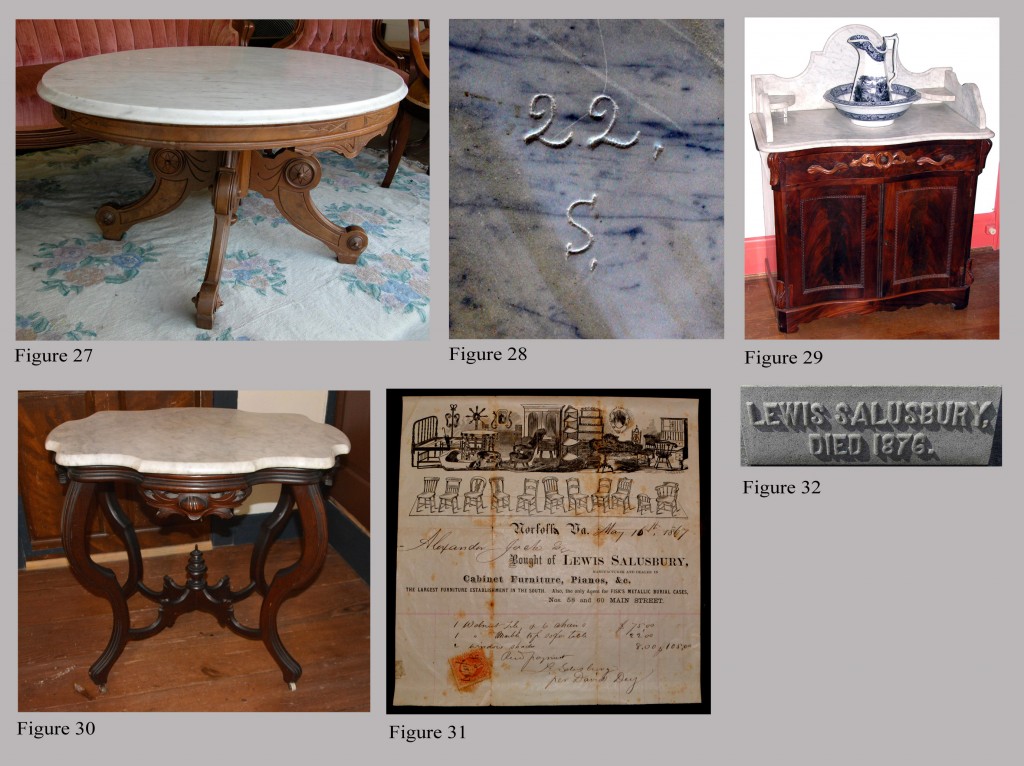 Next time you are in Norfolk with some free time, go to the cemetery office in Elmwood, ask for a map of Cedar Grove and mark the sites of these graves. Cross the street and stroll around the grounds of this old cemetery. While visiting these stones, you will experience an absolutely different way to appreciate the lives and skills of cabinetmakers in Norfolk years ago.
Published on: Nov 7, 2015
References/Bibliography:
Bivins, John, Jr. The Furniture of Coastal North Carolina 1700-1820. Winston-Salem, NC: Museum of Early Southern Decorative Arts (1988).
Bluemink, Donna, email, June 2015.
Dey, Mrs. Calvert R., Compiler. St. Paul's Church 1832 Originally The Borough Church 1739 Elizabeth River Parish Norfolk, Virginia. Norfolk, VA: The Altar Guild of St. Paul's Church (1934).
Hurst, Ronald L. "Cabinetmakers and Related Tradesmen in Norfolk, Virginia, 1770-1820": M. A. Thesis, College of William and Mary (1989).
Hurst, Ronald L. and Prown, Jonathan. Southern Furniture 1680-1830 The Colonial Williamsburg Collection. Williamsburg, VA: The Colonial Williamsburg Foundation (1997).
Melchor, Jim and Newbern, Tom. "Norfolk Common Chairs, A Research Note". Edenton Historical Commission www.ehcnc.org (2013).
Museum of Early Southern Decorative Arts Research Files
Newbern, Thomas R. J. and Melchor, James R. Classical Norfolk Furniture 1810-1840. Paducah, KY: Turner Publishing Co. (2004).
Newbern, Thomas, R. J. and Melchor, James R. Edenton Furniture and Culture, Colonial and Federal Periods. Benton, KY: Cupola House Association and Legacy Ink Publishing (2008).
Newbern, Thomas R. J. and Melchor, James R. WH Cabinetmaker, A Southern Mystery Solved. Benton, KY: Legacy Ink Publishing (2009).
Newbern, Tom, personal communication, July 2015.
Norfolk Cemeteries Database Elmwood and Cedar Grove
www.usgwarchives.net/va/norfolkcity/cemeteries/elmwoodcedargrove/elmcg08-a-bap.html
Norfolk Cemeteries Tombstones Cedar Grove Index
www.usgwarchives.net/va/norfolkcity/cemeteries/cedargrove/tombstones-a/